(5 Minute Read)
Since its inception in 1991, the Healthcare Effectiveness Data and Information Set (HEDIS®) has been widely used to ensure quality in managed care. HEDIS® is a comprehensive set of standardized performance measures that allows health plans to evaluate their performance against their counterparts, while also providing a means for employers and consumers to compare and select their plans.

As the healthcare industry continues to move towards value-based-care, it's becoming more imperative for payer organizations to focus on the quality of the delivered care. More than 90% of health plans currently use HEDIS® to measure performance on important dimensions of care and service (NCQA). However, a significant challenge in ensuring high performance with HEDIS® is addressing and interpreting ever-changing technical specifications and implementing timely and effective action plans to address them.
As the healthcare industry has changed, so has HEDIS

®

evolved and adapted, paving the way for easier data c
ollection, more accurate measurement, and more timely results. For HEDIS

®

2020, the National Committee for Quality Assurance (NCQA) will introduce additional quality
measures and usher in several changes to existing measures, while still pursuing efforts to harmonize performance measurement across the industry.
The NCQA recently announced its vision for the future and several areas it intends
to focus on in the future. These include: Flexibility, Accuracy, Ease, Insight, and Scheduling
HEDIS® is now becoming more flexible with allowable adjustment. NCQA introduced Allowable Adjustment in 2019 to help those who use HEDIS® for multiple programs, do so while maintaining the integrity and intent of the measures. The new flexibility will allow organizations to adapt HEDIS® measures for different purposes, including closing care gaps at different levels of the health care system.


There are 66 measures with new sets of rules for modification, allowing flexibility in altering the specified items as applicable for localized population scenarios (e.g., enrollment criteria, changing the product line criteria, measurement period, population subsets). NCQA does not consider allowable adjustments, such as changes to the numerator logic or changes to value sets, because these changes may modify the measures' clinical validity and therefore are not permitted.

Measures with the added flexibility of "Allowable Adjustments" will be an essential barometer for industry-wide performance bench-marking. Allowable adjustments will help you use measures correctly while adhering to the underlying clinical guideline for that given space. NCQA believes this will help reduce the burden of measure collection and reporting by explicitly defining allowable adjustments.
LICENSING AND CERTIFICATION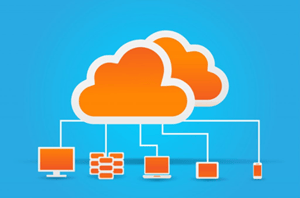 HEDIS® is continuously changing, and so is the software needed to accurately capture and record HEDIS® data. HEDIS® is NCQA's intellectual property, and using HEDIS® measure specifications requires a license agreement with NCQA, which is used internally for quality improvement within your health plan or delivery system. A health plan that uses internal software to record HEDIS® must have their software certified by NCQA, or contract with a certified software vendor, no later than 2021
The changes surrounding licensing and certifications are to ensure HEDIS® results are accurate, reliable, and can be used for all purposes, including the improvement of clinical care. As value-based payment models become the new norm, precise calculations become even more critical as they translate into higher revenue and payments. Therefore, all parties involved in the revenue cycle must be able to trust the underlying calculation.
The NCQA believes that inconsistent measurement leads to wasted resources and missed opportunities and have made it their priority to ensure that all HEDIS® uses are covered under the appropriate license agreement, ensuring that accurate HEDIS® measure specification results are calculated.
DIGITAL MEASURES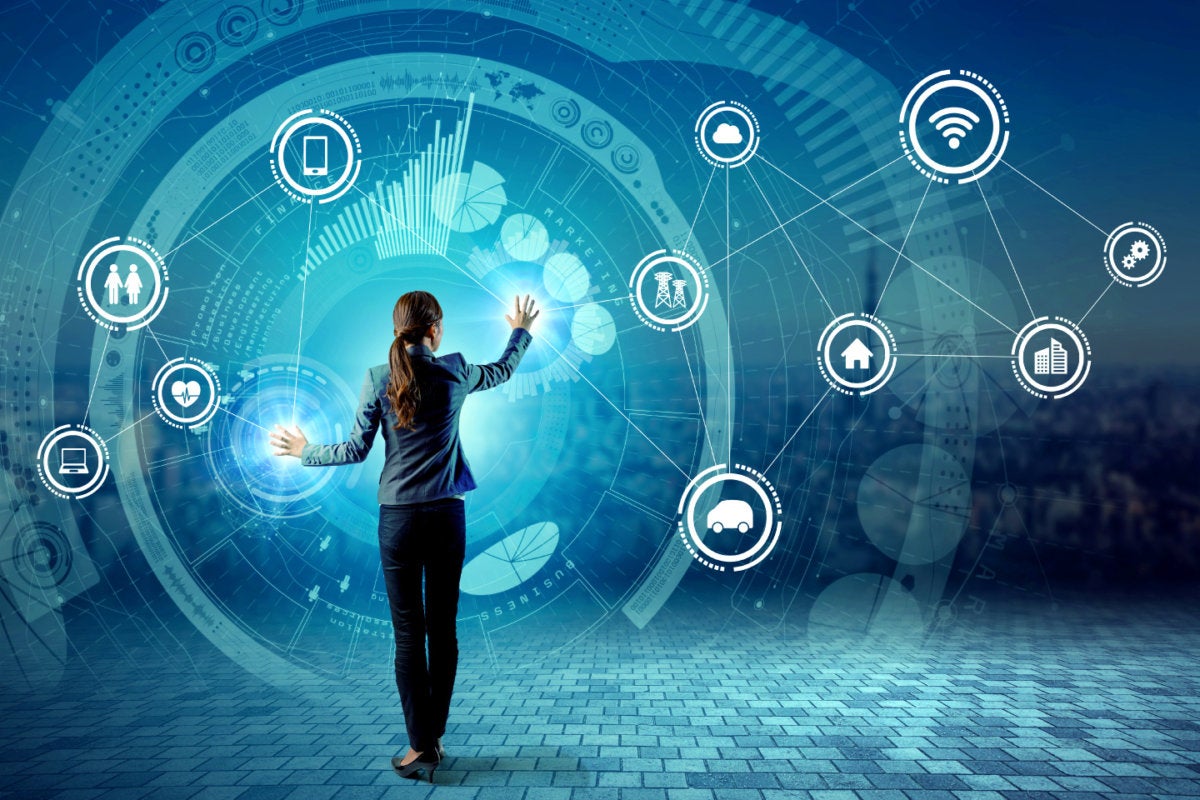 The digital era has dawned, and NCQA is trying to catch up.
They will begin in October by releasing eight HEDIS® 2020 digital measures for traditional reporting. As of 2019, NCQA is transitioning data collection to a digital process that uses existing electronic data sources rather than surveys and manual data collection. The first six measures available for HEDIS® Electronic Clinical Data System (ECDS) reporting include some related to depression, unhealthy alcohol use, and immunization status. The goal is that digital measures will follow industry standards so HEDIS® is easier to implement across the continuum of care. These digital measures will help reduce implementation time, human errors, and the non-standardization of data.
Digitization means that NCQA will write measures as computer codes, easing the need for users to read, interpret, and re-code measures. NCQA is currently using the quality data model, CQL (clinical quality language), as the logic that ties together elements inside the data model.
ELECTRONIC CLINICAL DATA SYSTEMS (ECDS) REPORTING
ECDS is a new reporting method that changes how health plans submit measure results. ECDS measures promote expanded use of clinical data beyond traditional claims data and actively contribute towards meaningful clinical outcome measurement. This new reporting method helps clinical data create insight for managing the health of individuals and groups.
The NCQA believes that ECDS is the future of clinical measurement, and by combining claims data with data from EHRs, health information exchanges, and other electronic sources can provide more complete results and better insight into the quality of care being delivered to individuals and groups.
ANNUAL TIMELINE
NCQA's schedule has traditionally been to release measure specs with HEDIS® Volume 2, halfway through the year, at which time they are expected to be used. This means that the measures published in July 2019 apply to services for this entire calendar year, January 1–December 31, 2019. That's six months where organizations are expected to follow specs that they had no way of knowing about, and the measurement year is half over before plans understand what they're expected to report.
This 6-month flag has been a feature of the HEDIS® cycle for decades, but NCQA is now attempting to create a more logical schedule. On August 1, 2021, NCQA will release measures, but these measures will apply to services in 2022. The new schedule will give organizations complete measure specs 11 months earlier than the current timeline. NCQA hopes that having a 5-month head start every year will help organizations plan ahead, improve care, and close quality gaps.
There is NO change to the HEDIS® submission deadline. Reporting the data will still happen in June of the year after the measurement year, as it always has.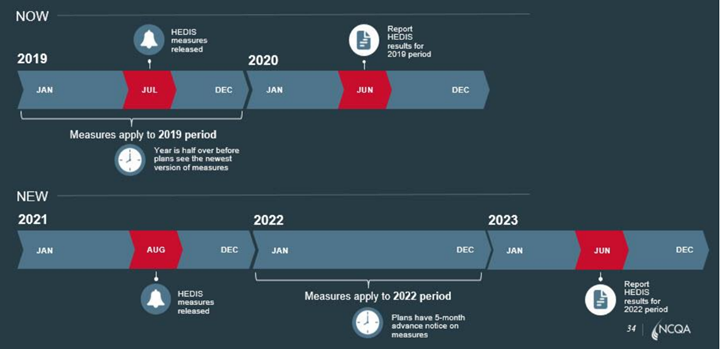 DON'T PUT OFF UNTIL TOMORROW WHAT YOU CAN DO TODAY
HEDIS® season is fast approaching, and now is the time to prepare. HEDIS® 2020 has introduced changes to the majority of the measures, making it essential for payers to start their reporting priorities in advance since significant time would be needed to validate performance results against prior years.
A detailed analysis of HEDIS® 2020 data requirements against the 2019 data model is crucial. With the significant number of measures undergoing measure logic changes, performance shifts are to be expected when compared against performance measured in 2019.
As always, Impresiv Health is here for you every step of the way. Quicker, efficient, affordable -That's Impresiv!
HEDIS® is a registered trademark of the National Committee for Quality Assurance (NCQA).
---
Learn More About Impresiv Health's Clinical Services
Never Miss Another Impresiv Health Blog
Sign up for our monthly newsletter to get the latest news, blogs, tips, and thought leadership from Impresiv Health.